There are an estimated 21,723 care homes in the UK today providing care to more than 420,000 people.
With care homes being indispensable in the long-term care sector, now is the time for care home owners to implement appropriate technology to improve the level of care provided and streamline processes for carers.
The limitless potential of care home technology
"The customisable and flexible nature of technology means that it is only the limits of our imagination that prevent us from being able to describe its potential for any sector or application."
Care homes are already adopting a lot of well used technology from other industries to serve as specific solutions for care issues:
Patient remote alarms through telecare
Patients that have asthma or chronic obstructive pulmonary disease, can have a telecare device which measures the levels of oxygen in their blood, to show how well they're breathing. The device remotely alerts a doctor or nurse so they know to either carry out a check-up over the phone or send someone out, depending on their health issues.
These readings help patients receive the care they need at a much earlier stage, in turn saving countless lives. High blood pressure, diabetes and UTI's are all issues that telecare solutions are out there combatting right now.
Electronic care records

Another huge advancement in the way of communication for care homes has been the implementation of electronic record keeping. A simple, but pivotal move for many care homes, making it easier to use records for the resident's benefit.
Digital records also help support a concept known as "connected health." Connected health describes how technology and easy access to data helps deliver certain care remotely and with greater speed, empowering and giving confident to carers.
Virtual reality
Physical and mental health rehabilitation through virtual reality is possibly the newest most advanced look into technology adoption for care homes. VR's (virtual reality) value with rehabilitation has been proven to be worth the adoption.
Being able to interact with a three-dimensional world, allows for an immersive experience for patients. Engaging patient's senses for a fun activity reduces stress and helps keep patients happy.
Early warning systems
The incorporation of data collection within the care home industry isn't anything new. However, collecting this information digitally, and being able to own that data, to analyse your care homes is a relatively new concept.
Sharing data collected with Public Health England has proven to be a one-sided relationship, with care homes getting very little back in the way of usable data. Which is why it's time for care homes to take back ownership and use data to help better their processes.
Early warning systems collect resident data to help monitor and prevent a potential outbreak of infectious disease.
With a sophisticated early warning app and portal for infection monitoring and prevention, care homes can log-in and quickly determine whether or not their care homes are operating with a potential outbreak. Using a colour-coded system a Care Home Manager can verify this with just a glance, letting the software determine areas for concern with a traffic light colour coding system.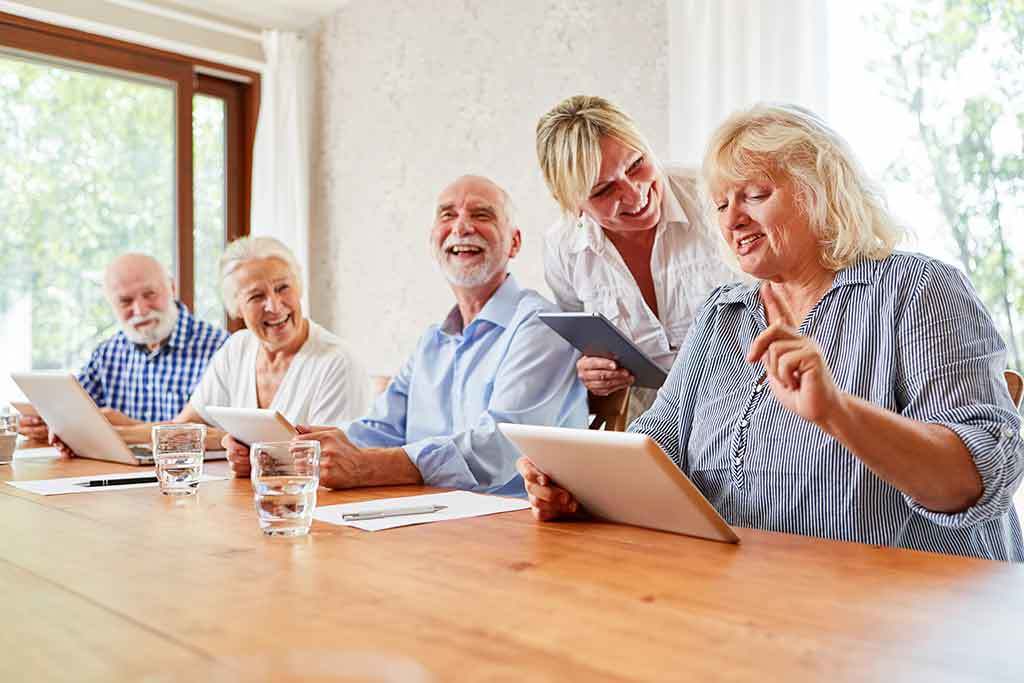 The ability to enhance a care home's capacity to support wellness and leisure is fundamental to running successfully. The best way to increase the quality of care your residents receive is to free up carers' time from administrative processes with innovative care home technology.
Particularly since the COVID-19 pandemic, with the strain this has placed on the care industry, infectious disease monitoring and prevention is more important than ever.
Validating, verifying and acting on a suspected outbreak
With an early warning system piece of care home technology, carers are able to get an accurate view on the days data. Front-line workers can track instances of vital key symptoms against daily occupancy.
The traffic light system alerts, instantly allowing professionals to visualise and highlight concerns in symptom data.
What's more is this data can be your data by being added to a centralised database of other care homes, completely anonymously. You can see your care home data against other homes regionally and nationally giving you an even broader view of infectious outbreaks.
With this care home technology, you can easily assess early warning data and focus on containing an outbreak or track key changes in symptoms to enhance preventative care.
Why Gather Care?
The main advantage for a piece of care home technology like an early warning system, is carers can identify outbreaks before they have a chance to escalate.
Gather Care enables Care Homes to capture and centralise crucial symptom data, providing comparative current, historic and geographic data.
Developed with industry leading care professionals and clinicians to monitor early warning signs, taking data on:
Symptom Counts
Pyrexia
Diarrhoea
Vomiting
Chest infections
Flu and/or Cold
Persistent Cough
Urinary Tract Infection
If you're interested in getting a month's free trial for Gather Care then don't hesitate to get in touch today.
Take the first step towards valuable data
With our Data Capture app and Data services team on offer we provide all the tools necessary to unlock the value in your customer data
Stay up to date with Gather