Here at Gather we understand that crafting meaningful interactions with your customer is the single most important factor in lead nurturing. Trade shows and industry events are so valuable as they offer brands a brief window of opportunity for face to face interactions.
"Lead generation is practical, measurable and not about the feelings of advertisers or marketers. It's about meeting the needs of people looking to accomplish specific things."
With so much time and resources that go into exhibiting at these events, how can you be sure to get the most out of these fruitful opportunities?
We layout how utilising a trade show lead capture app can help considerably boost your ROI from events. Giving you the confidence to interact with prospects knowing your lead capture process will not interrupt the customer experience.
The role data plays
Data has gifted brands with a tool that allows them to get to know who their clients are, what they want and how they want it. Customers today expect a seamless, consistent buyer experience and anything less than this won't suffice. In today's oversaturated advertising space long gone are the days that consumers would respond to mixed messaging.
"If you seem to know them one day and throw something out of left field at them tomorrow, they notice, and it doesn't impress them."
So, having the means to capture crucial customer date with a trade show lead capture app at live events gives you the information you need to keep users engaged. Allowing you more time to help nurture those leads into long-standing relationships with customers.
Trade show lead capture app: opportunity through adaptability
Live events and exhibitions have been offering means of data capture for years now. It's easy to become complacent and fail to search for more efficient means.
With event supplied data capture, you are usually issued a dated piece of hardware that allows you to collect only specific data that the event dictates beforehand. You receive this data by scanning visitor badge QR codes at your stand. This information cannot be adapted based on customer interactions, there is no way to record a lead's area or product of interest, nor to score a lead.
The biggest issue with event provided data is the delayed delivery of this data, meaning that a brief window of effective follow up is rarely met.
Sourcing a solution
Sourcing your own data capture through a trade show lead capture app means your sales staff can have all the familiarity that comes with using their own phone/ tablet device. A lead capture app will allow you to decide what data is important to you for follow up.
Crucially you're able to utilise and store any data captured in your CRM within seconds. Meaning personalised follow-up emails can be sent within minutes of meeting a prospect.
Kiosk Data Capture: An Extra Advantage
What really gives brands an advantage is the ability to set up forms in a kiosk mode, using any Apple or Android tablet device. Your sales team is naturally limited by the number of representatives only being able to speak to one prospect at a time. These kiosks apps offer a chance for prospects to interact with your stall even if everyone on your sales team is preoccupied.
Allowing you to capture more data than what would be possible without, hugely increasing the ROI from attending any event. Many consumers prefer to avoid human interaction altogether and kiosk forms actually become a more attractive option for certain customers and prospects.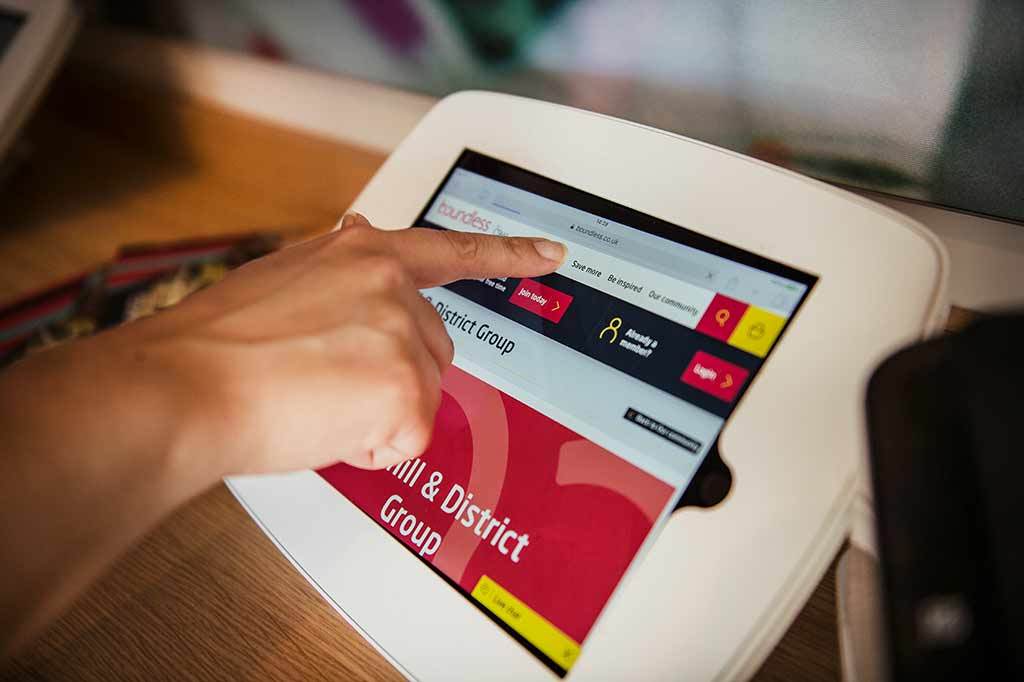 Keep control of the data you collect
With a trade show lead capture app, you will also have access to any data that you dictate as important. By creating custom forms and making any fields mandatory that you deem necessary to be filled out to help keep your data sets consistent and valid.
This bespoke nature with third party data capture solutions is too good an opportunity to miss up. Giving you complete control over what, whenand how you capture your data allows you to exhibit with confidence knowing your filling your CRM's with reliable data whilst also focussing on what really matters, the customer.
To stay up to date on our regular insights consider following us over on Twitter, LinkedInand Facebook.
Take the first step towards valuable data
With our Data Capture app and Data services team on offer we provide all the tools necessary to unlock the value in your customer data
Stay up to date with Gather